Key points
LODIGROUP is taking to the seas with Loïc Escoffier
The Saint Malo skipper will be at the helm of an ORC 50 built by Marsaudon Composites
The catamaran was launched for the first time today in Lorient
A busy racing schedule in 2022
It was an emotionally intense day for Loïc Escoffier and the Lodigroup teams in Lorient. At around 2pm this afternoon, the black catamaran sporting the 'IDOL' mascot was launched by Marsaudon Composites after seven months under construction. It was a symbolic stage in the project, confirming the commitment of the Brittany-based firm to its sailing adventure with Loïc Escoffier.
This native of Saint Malo (son of Franck-Yves and brother of Kevin) had paused his ocean-going racing adventures to take over the fishing business founded by his father, but is now returning to his first love and to racing – much to his delight!
A human adventure – and a team effort
This particular sailing adventure began with an encounter between two enthusiastic entrepreneurs. Lodigroup CEO Alexis Lockman and fishing fleet owner Loïc Escoffier met at a France-New Zealand rugby international some fifteen years ago. United ever since by their keen interest in the game and their shared values, they decided to take up a new challenge together: the construction of a catamaran decked out in the colours of Lodigroup. Taking up this challenge will be a team effort: the company is keen not only to associate its in-house staff, but also its customers and partners in the undertaking.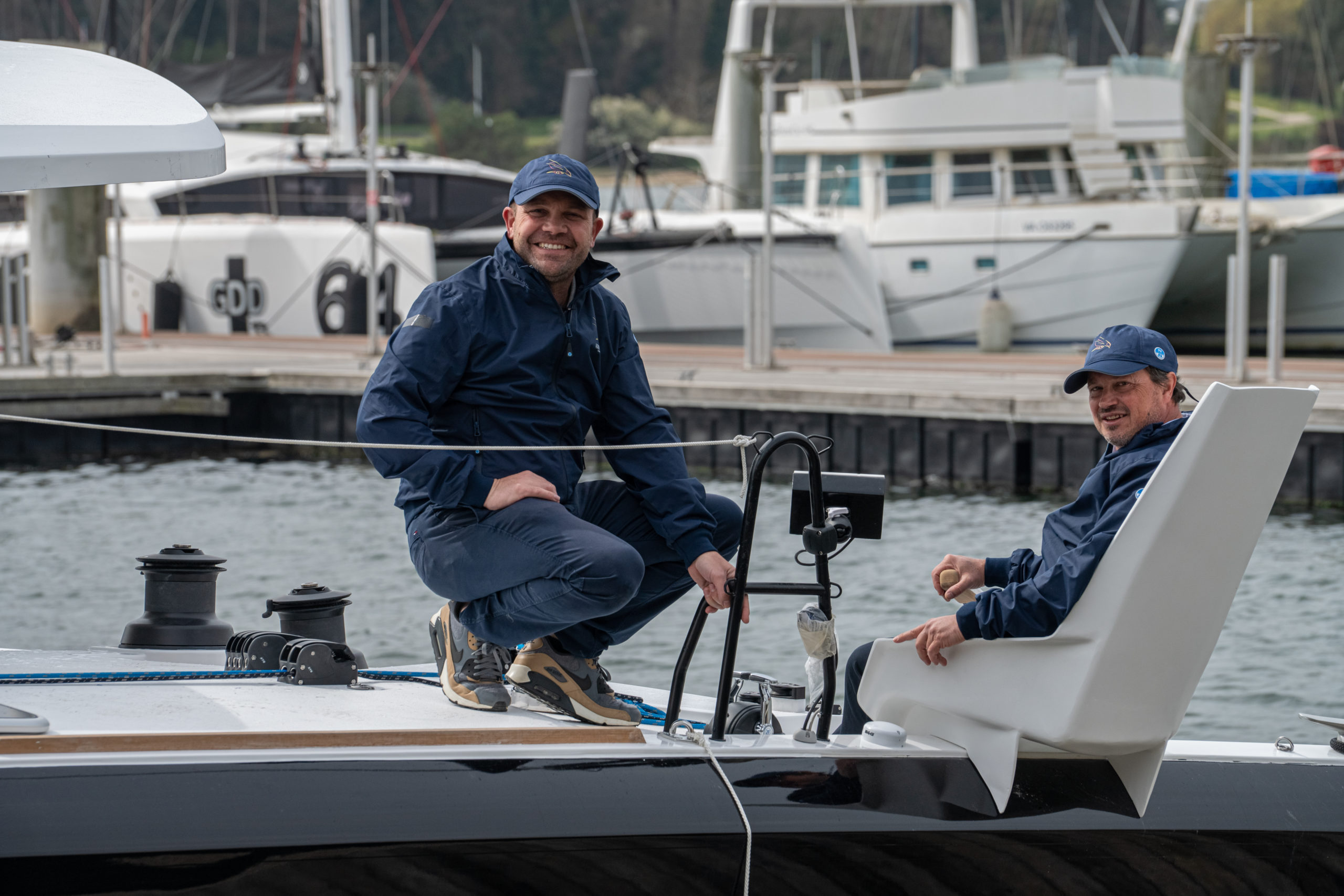 «Loïc and I have known each other for some fifteen years now. During a chance conversation one day, I asked him whether he would be up for racing once again. He said he would, if the project was sound. That gave me the idea of supporting him. We went to try out some boats together, and then decided to build this all-new catamaran. Loïc is straightforward, approachable, highly motivated, and committed in everything he does.
LODIGROUP identifies with all of these values; I'm sure Loïc will know how to engage all our employees alongside him in this sailing adventure!»
Alexis Lockman, Chairman, LODIGROUP
Provisional 2022 calendar
Spi Ouest France: 14-18 April
Tour de Belle-Île: 7-8 May
Armen Race: 26-29 May
Cowes – Dinard: starts on 8 July
Route du Rhum: starts on 6 November
A return to racing for Loïc Escoffier…
After having won his spurs and finishing on the podium in several competitions sailing Hobie Cat 16 and Formula 18 catamarans with his team-mate Victorien Erussard, Loïc then moved on to Multi 50s. In 2006, aged 25, he entered the Route du Rhum transatlantic yacht race on board Gamin, the trimaran with which Franck-Yves had won the contest eight years previously in the Class 2 multihulls category. Competing for the very first time in the race, Loïc finished fourth.
It was an unforgettable experience for the Saint Malo skipper, but it didn't overshadow his greatest dream: becoming a fisherman. He decided to commit full-time to the family fishing firm, throwing himself into the business started by his parents – but making sure he had time to sail racing yachts too, especially 50-foot multihulls.
In 2016, he bought out the company and sought to expand it. It became difficult to find time to sail both for fun and for profit, so he abandoned ocean-going racing. After a few years' hard graft, he expanded from two boats to four and doubled the headcount (today, he manages a workforce of some thirty people). Nevertheless, his love of competitive sport remained, and he still dreamed of returning to it one day. So when the opportunity to return to racing arose with Lodigroup, Loïc didn't need to be asked twice – and got to work on the new project with all his characteristic commitment and drive.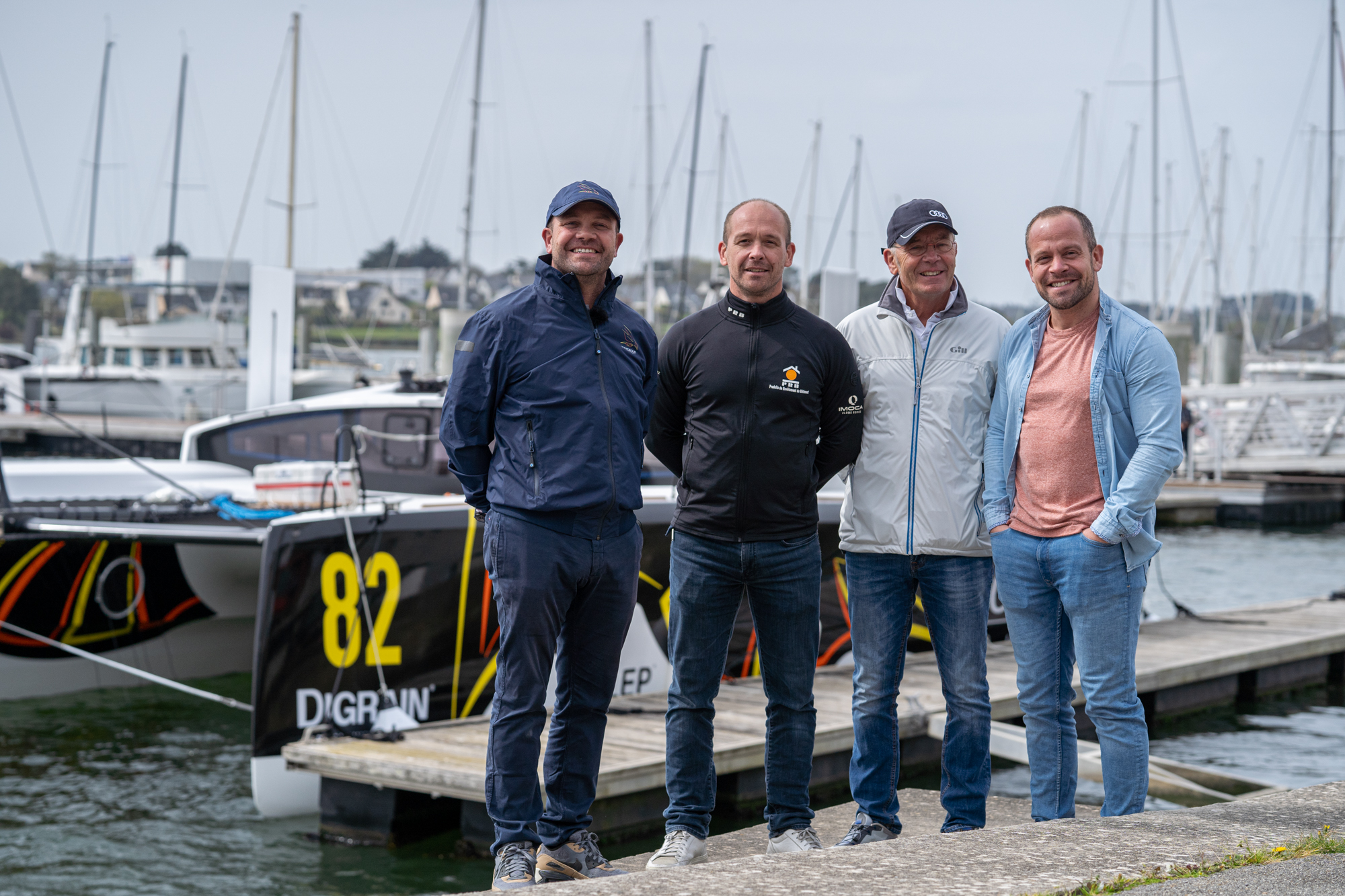 «It's a moving experience to see this boat afloat. I'm rather lost for words at the sight. Above all, I'm keen to take her sailing this weekend. The next race is coming up soon, and we need to get ready quickly, working on reliability and all the various adjustments required. I realise I'm already looking at where I could save even more weight, and what I could improve to boost her performance still further. It turns out that it doesn't take much to awaken my competitive spirit!
My parents and brothers have come along for the occasion; it's great to be able to share this moment with them too, especially because we followed my dad through all his races: the Figaro circuit and the Jacques Vabre and Route du Rhum transatlantic races – now it's my turn (laughter).»
Loïc Escoffier, LODIGROUP skipper
… at the helm of an optimised, competitive ORC 50
Built by Marsaudon Composites in Lorient, Lodigroup's ORC 50 is a fast cruising catamaran that combines sailing performance and comfort. An ideal vessel to host guests and introduce them to the joys of ocean sailing, the Lodigroup catamaran will also be a piece of highly competitive hardware for Loïc Escoffier. On board, the Saint Malo-based mariner hopes to be among the winning yachtsmen.
"The yacht is basically a fast cruising catamaran with an average speed of 12-13 knots and a maximum speed of up to 30kts. We've completely gutted the interior and optimised the sails, the size of the mast, and added carbon fibre where needed. with the aim of shedding weight and thus enhancing performance. A lighter vessel also means less physical effort for the skipper – a factor that could make that vital bit of difference compared to my competitors."
Loïc has a busy schedule ahead of him. In just under two weeks' time, he'll be taking part in his first race with a crew, the Spi Ouest France, from April 14-18 at La Trinité-sur-Mer. The Lodigroup catamaran will then be competing in the Tour de Belle-Île and the Armen Race in May, followed by the Cowes-Dinard race in July. Then of course there's the Route du Rhum – Destination Guadeloupe, starting out from Saint Malo on November 6, for which Loïc Escoffier will have to qualify.
Provisional 2022 calendar
Spi Ouest France: 14-18 April
Tour de Belle-Île: 7-8 May
Armen Race: 26-29 May
Cowes – Dinard: starts on 8 July
Route du Rhum: starts on 6 November
A clear identity
To embody this sailing adventure, Lodigroup has decided to create a mascot to feature on the catamaran's sails and hull. 'IDOL' (an anagram of 'Lodi') is a hybrid creature with a lightweight look, a cross between a sleek bird and a bee. The birdlike aspect calls to mind lightness, agility, and speed. The bee aspect evokes team spirit, hard work, and solidarity.
The creature embodies Lodigroup's mission as a stakeholder in public health, as well as the values upheld by the company on a daily basis – and in this exciting sailing adventure, too.
Designed by Jean-Baptiste Épron